All Weather Safe Rooms – In time of need, you want to KNOW you're protected
Whether it's protection from severe weather (like a Huntsville tornado or a Tennessee tornado) in an underground storm shelter or in an above ground tornado safe room, or from theft, bullets, fire or the unknown, you must have certainty that your valuables will be safe and out of harm's way, that YOU and YOUR FAMILY will be safe and protected. Safety is our Number One priority. In the event of severe weather, or burglary, fire or worse, you don't want to accept any imitations, insist on the best – your life may depend on it!
The best
safe room

doesn't always mean the most expensive safe room…
Starting at $4,000, for example, you could have your own 4 foot by 4 foot above ground All Weather Safe Room (or tornado room) installed in your home or business. And not only will our all-welded, reinforced, thick steel tornado safe room units protect from even an EF-5 tornado (engineered to exceed FEMA's national performance requirements), they can also protect you from theft, bullets, fire and more.
(For standard sizes and options, click the following link: Safe Rooms)
(For underground shelter information, click this link: Underground Storm Shelters)
What specifically makes the
All Weather Safe Room

a "superior" Safe Room? (Compare to the competition:)
The All Weather tornado safe room has undergone extensive testing at the Texas Tech Science Engineering Center (see the video of the All Weather Tornado Safe Room impact tests here)
All our tornado safe rooms are manufactured with state of the art equipment and are 100% made in the U.S.A.
Rounded corners – we don't weld the corners of our safe rooms, we go the extra mile and bend the corners to add additional rigidity and strength
All our tornado safe rooms and storm shelters meet or exceed FEMA 320, FEMA 361 and National Storm Shelter Association (NSSA) standards
Our All Weather Safe Room has one of the strongest doors available in the industry at approximately 350-pounds of 1/4-inch thick steel, with heavy-duty grease-hinges, protected from impact or damage by the exterior wall of the safe room
Doors come standard with a door size meeting ADA wheelchair accessibility and are latched using a high-security locking Medeco dead-bolt and two 3/4″ solid steel latch pins, securing the door at 3 points (Deluxe package replaces sliding pins with deadbolts, for a total of 3 heavy-duty locking deadbolts)
The safe room is anchored every 16 inches to the floor using the proven 5/8″  Hilti bolting system and epoxy, each bolt with a sheer force rating of 13,800 pounds (per bolt!)
Engineered for extra strength via our 2 inch square tubular frame every 16 inches manufactured to the highest standards (versus just a single-sheet of steel for the wall or ceiling, and no other tubing or bracing!)
Our tornado safe room is manufactured in a facility dedicated to the manufacturing of storm shelters and safe rooms using state of the art equipment and technology to ensure the highest quality tolerances to provide the safest rooms possible!
All Weather Safe Rooms come standard with 3/16″ steel (1/4″ steel unit also available with Deluxe package).
In summary, you can be assured that you are investing in the quality and safety you and your family deserve.
Beware of 'Copycat' Safe Rooms!
In our search for the best storm shelters, tornado rooms and safe rooms on the market, we came across many "copycats."   These companies took the designs of tested storm shelter manufacturers, took various shortcuts in their own manufacturing process and produced an inferior product. Without thorough research, however, the average customer cannot determine the difference.
Often times, these storm shelters and tornado safe rooms do not have doors that meet FEMA and Texas Tech University standards in either general construction or in locking mechanisms, among other deficiencies we found.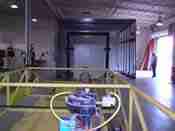 Some of these tornado safe room manufacturers claim they do on-site testing saying it's not necessary to have their shelter tested by the reputable university standards…
These "copycat" manufacturers are taking your life into their hands by selling you an inferior product with no regard for your safety. Please, for your own sake, make sure the shelter your life or valuables are depending on is an approved, safe shelter.
The Wind Engineering Research Center at Texas Tech University applauds your company's efforts in providing a safe product for the consumer.

– Larry Tanner, Texas Tech University
Don't accept a substandard shelter or safe room that is pieced together in someone's garage or back yard.  Go with a proven and experienced leader that will ensure your shelter or safe room will remain intact and in place.
The All Weather Safe Room is designed to be installed in new or existing construction.  They can easily be installed into the framing of the house or installed in your garage for quick and convenient access without ever having to go outside in extreme conditions.  If neither of these two options meet your needs, the All Weather tornado safe room can be installed outside of your home on a slab which meets specifications we will provide to you (some of our customers elect to install a tornado safe room over the top of an underground shelter, so we can do that for you too).
Our safe rooms are available in many different sizes to accomdate any family size or budget (common sizes we usually build are from 4'x4′ to 6'x8′, but we can build as large as the 10 x 50 community safe room size to as small as 3 foot 6 inches and anywhere in between, down to the inch) and can be professionally installed in as little as one hour in most cases.  With the added protection of the Medico locking deadbolt, you can be assured that your valuables will be protected should you decide to store them in your safe room (such as jewelry, guns, weapons, ammunition, precious metals, etc).
A safe room or storm shelter is something you hope you never need.  It is also something you don't want to wish you had when it's already too late…
A new home or office in the pre-construction stage as a closet or small room;
 The garage or patio of an existing home;
A concrete slab outside of an existing home or business;
Day care centers;
Churches;
Government office buildings;
Military bases;
Camping facilities;
Schools and more…
—–> Got Questions?  Check out our Frequently Asked Questions (FAQs) page for answers to your safe room questions.  Just click here.
Installation of an All Weather Tornado Safe Room
For more information or to get a custom quote for a tornado room, safe room or tornado safe room, click on the PLACE ORDER link above to get your order in the system or you can contact us either in Northern Alabama at 256-258-9463 or in Tennessee at 615-669-4630 to ensure the protection and safety of your valuables and family today!  (We also have underground storm shelters for sale)
–> And don't forget to sign up for your FREE WeatherCall@Home service – the address-specific, storm-specific weather alert service that will email, text and CALL you when a dangerous storm is directly approaching your home or business.   Take advantage of this complimentary service we are offering to our website visitors today while it's still free to ensure your family is safe from severe weather, whether you're home or not – just fill out the form below now: