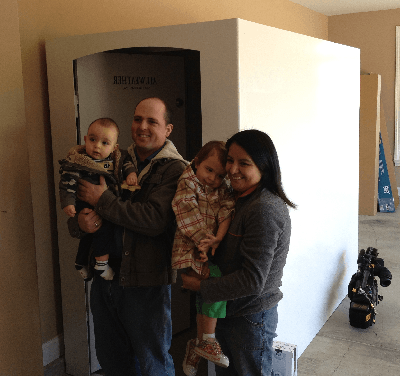 At the beginning of December, CNN showed up to film the install of one of our All Weather Safe Rooms – an above-ground 1/4-inch thick metal tornado safe room – for the Harrisons, who's home was completely destroyed by the tragic storms of April 2011. The only thing left of their house was the safe room that saved their life, as you'll see in the video below.  Due to the compelling nature and circumstances for this young family, All Weather Safe Rooms in partnership with their local Norther Alabama dealer Lifesaver Storm Shelters of North Alabama decided to donate a 4×6 metal tornado safe room, installed and bolted inside the garage of their new house to ensure they'll be safe in case another storm were to come their way in the future.
Kevin and Adrian are grateful they had a tornado safe room in the garage of their old house for as scary as it was to go through such a devastating storm – with two very young children no less – they survived and live to tell the story to make sure others know of the importance of having a safe place to go when severe weather strikes, as they now do with their new tornado safe room.
Regardless if you're young or old, the color of your skin, your financial or employment status, a Huntsville tornado can strike anyone here in the Tennessee valley and surrounding areas and it's important for the safety of your family that you have a safe, secure place to go when the time comes.
Tornado Safe Room – More than just shelter from the storm: All Weather Safe Rooms
What's great about a tornado safe room is not only will it protect you and provide you shelter from the storm, but it also can be a panic room as well as a safe.  With all the burglaries around town lately, a tornado safe room could serve as your personal panic room where you could enter and simply deadbolt the three deadbolt locks behind you to ensure you and your valuable are safe and give you a safe place and time to contact the local law enforcement.  The All Weather Safe Rooms can also protect against fire and bullets as well, again a perfect place to secure your title deeds, insurance paperwork, savings, jewelry or precious metals, guns, ammunition, computer backup files, and other important paperwork and belongings.  One place for everything (and you can also lock it from the outside when leaving the house or going out of town in case you want to protect such items when you're not at home.
Another way you can help ensure your safety is to subscribe to our free WeatherCall @Home service by simply entering your details in the form on the right of this page.  WeatherCall @Home will alert you when severe weather is approaching your exact home or business (whatever address you give it) with a phone call, text message and email message to make sure you get the notice you need when you need it if your family or business' safety is at risk.
Watch the different videos below from a few of the networks covering the All Weather tornado Safe Room install we completed at the beginning of December below: