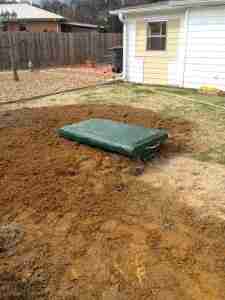 As you're likely aware from our Lifesaver Storm Shelter Models & Benefits page, we offer a wide range of both underground storm shelters and above-ground safe rooms, from our smallest 4-adult storm shelter to our largest tornado safe rooms that protect up to 100 people (10 x 50 foot tornado safe room).  I wanted to put together a quick post to show some of the differences between the smaller Lifesaver storm shelter models (vs the bigger LS-8, LS-10, LS-12 or LS-20 models) in how they are installed to address a few questions that people have had about they are installed.
On the Lifesaver Storm Shelters Models & Benefits page, you'll see an unedited storm shelter install video shot of us installing an LS-12 storm shelter, from digging the hole, to pouring the concrete pad underneath the shelter, to strapping down and back-filling it to complete the storm shelter install.
Since we haven't yet filmed one of the smaller units (LS-4 or LS-6) being installed – and since they have a slightly different install process due to their smaller volume, size and shape and therefore differing buoyancy factors – I wanted to go through the process of installing an LS-6 Lifesaver shelter and show some pictures to help you better understand the process for those interested.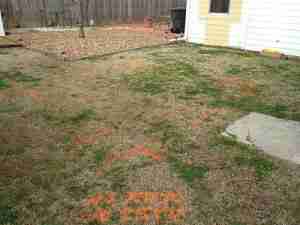 LS-6 Storm Shelter Install Process
The first step is for the customer to call their call-before-you-dig number (in Alabama it's usually 8-1-1).  They will then come out at no cost to mark where underground utilities, etc are in proximity to the location of the storm shelter so that there are no surprises when we start digging the hole. 😉
Then we begin digging the hole, approximately 10 feet by 12 feet (depending on the location) some 6 feet deep.  We shoot grade to make sure the bottom of the hole is the right depth and prepare the tornado shelter to be lowered into the hole (bigger models require bigger, deeper holes).
The Main LS-4 & LS-6 Lifesaver Storm Shelter Install Differences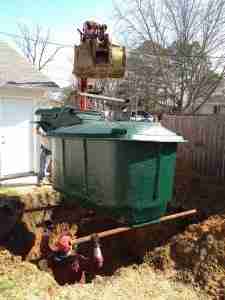 For the LS-4 and LS-6 underground tornado shelter models, this means threading 9-foot long, 2-inch steel pipes through the bottom of the tornado shelters as you can see in the photos.  This is part of the anchoring system which is engineering and designed to have 2 fiberglass panels on either side of the shelter sitting on top of the steel pipes to help anchor and keep the shelter in it's installed location (so it doesn't float up or move around).
The larger Lifesaver storm shelters (LS-8 and above) require a heavier anchoring system which is why we use an 8-inch thick concrete pad underneath the shelter or preformed 2000 and 3000 lb concrete blocks with straps or chains as their buoyancy factor is greater.  That concrete would be overkill and unnecessary for the smaller LS-4 and LS-6 Lifesaver storm shelters however and would also unnecessarily increase the cost for the customer.
So once the fiberglass panels are in properly, the tornado shelter is level and correctly in place, we backfill the dirt into the hole to bury the underground storm shelter, leaving the dirt around it a few inches high in order to compensate for some of the dirt that will settle (it will take a few rains to really compact and settle the dirt; the shelter does not settle or move, only some of the dirt on top).
Lifesaver Storm Shelters Lifetime Warranty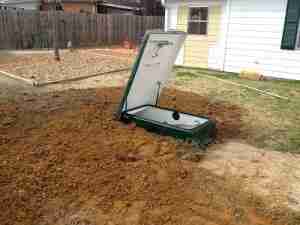 To ensure each Lifesaver storm shelter is properly installed so we can issue a lifetime warranty on the storm shelter, we include installation in the prices we quote for our tornado shelters, like our LS-4 model (4 adults) which for purchase and normal install is $3500.  The LS-6 as pictured in this post for a normal install is $4500.  If you have any other requirements, like hauling off dirt, removing trees or shrubs or anything else, feel free to give us a call at 256-258-WIND and we're more than happy to answer your questions and provide you with more information.
Also be sure to visit our facebook page for the latest news and information at http://www.facebook.com/HuntsvilleTornadoShelters