April 27 Huntsville Tornadoes – So Many But So Few Words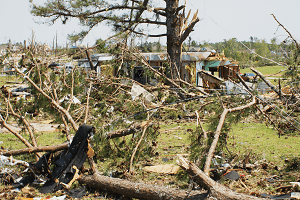 Folks, I have so few words and so many emotions this morning.
After speaking with Danny Holmes again yesterday, and after reading more emails from people in Hackleburg and Phil Campbell, AL, and NOW looking back at some of the Huntsville tornado coverage from April 27, 2011…
when over 40 tornadoes touched down in an 11 county area in North Alabama;
when over 230,000 phone calls were made by WeatherCall, and over 156,000 delivered messages to home phones and cell phones;
when many more hundreds of thousands of text messages and emails were sent out by WeatherCall;
when over 150 of our friends and neighbors lives were ended;
When our lives were all changed that day;
when we went from knowing NO ONE who had ever lost their entire house to a tornado to knowing 10 to 20 people;
when meteorologists, first responders, treating doctors and nurses, and social workers, dropped to their knees after emotional exhaustion set in dropping them to their knees in helplessness, we all lost what was left of our deniability and weather innocence.
To those Huntsville tornado survivors, who cannot get the sound of losing all they have, in some cases, family and friends, I pray for you today.
To those who lost friends and loved ones that day and the days after, when lingering lives were taken away, I pray for you today.
To the first responders and to the National Weather Service, who did ALL THEY COULD that day, days leading up, and days after, I pray for you.
To all who's innocence was stripped to nothing that day, I pray for you.
If you can afford it, get a Storm Shelter.  If you cannot afford a storm shelter or safe room, talk to friends and neighbors, and go in together on a big one (like an LS-20 underground storm shelter).  Most importantly, sign-up for WeatherCall (for free at huntsvilletornadoshelters.com when you leave your email address or just look to the right of this page if you're already on the site) and learn to depend on it.
Remember, share, volunteer, love.
Brad Huffines – Meteorologist, National Notification Consultant, WeatherCall
————————-
> Ever wanted to know WHY Brad has left television, what his passions are and what drives him?  Watch The WeatherCall Effect & Huntsville Tornadoes – The Brad Huffines Story