With a Lifesaver Storm Shelter, you can not only protect you and your family in the event of a Huntsville tornado or severe weather but you can take shelter from the storm in style!  Take a look at the inside of one of our 12-person shelters as installed for one of our Lifesaver storm shelters of North Alabama customers below.
Lifesaver storm shelter Customizations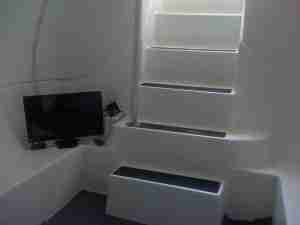 There is an endless number of customizations you can have with our underground shelters, from wiring it with TV and cable as our customer here did, to pouring a concrete patio around it, planting shrubs or sod, or even painting it your favorite color (or turning it into the ultimate collegiate banner – I'm talking to you SEC football fans!).
Just imagine the look on your neighbors'/friends' faces when they come over to find a massive 5-foot by 3-foot crimson Alabama banner or orange Auburn banner (your painted shelter lid) prominently displaying your passion and joy?  Your shelter doesn't have to stay green – use your imagination!  The possibilities for customizing your underground tornado shelter are endless.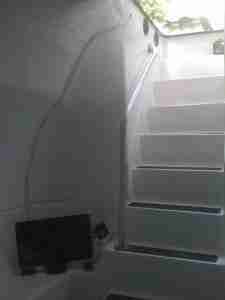 We want to smash the notion that underground storm shelters, tornado shelters, or safe rooms have to be scary, damp, undesirable places.  After all, you shouldn't have to think twice about actually USING your storm shelter – kind of defeats the purpose, right?
We're confident that should you decide to choose an underground shelter from us at Huntsville Tornado Shelters .com and Lifesaver storm shelters of North Alabama, that you'll be so happy and satisfied with your investment that you'll not only not hesitate to use it when necessary but that you'll be sharing with your friends and family about it.
Experience the quality and superiority of our underground storm shelters yourself with no obligation.  Just fill out the form on the right of this page and we'll happily bring one of our Lifesaver Storm Shelters to your home or business for you to touch, smell and feel the difference.
Got Any Other Lifesaver storm shelter Customization Ideas?
So how would you like to to customize your Lifesaver Storm shelter?  At Huntsville Tornado Shelters .com, we take pride in helping to keep you safe by providing you with the best protection from severe weather possible (like a Huntsville tornado), at a price that's affordable, and in the way you want it.  If you've got some creative ideas or suggestions, just jot them down in the comments section below, we'd love to hear what you think!
And by all means, please share this post with others so they too can see what is possible today with a Lifesaver underground storm shelter from Huntsville Tornado Shelters .com!