Where Will You And Your Family Go In The Event Of Severe Weather or The Next Huntsville Tornado?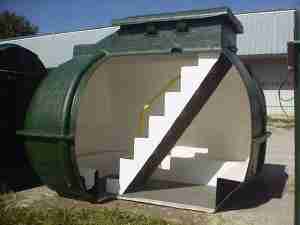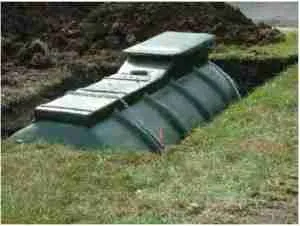 Lifesaver Storm Shelters offer safer, more comfortable, quality shelters that people will ACTUALLY USE if severe weather, like a Huntsville tornado, strikes.  Many concrete or metal shelters go unused by their owners because the interiors are often scary places.  This defeats the purpose of having an underground shelter which you and your family should NOT hesitate to use during severe weather.  
Lifesaver Storm Shelters Standard Features: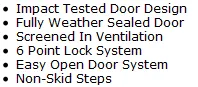 Watch this quick 3-min video tour of our LS-12 Lifesaver Underground Storm Shelter (with over 2 million views on YouTube and counting…)
To see the different Lifesaver sizes and models, click here

–> To learn about our above-ground Tornado Safe Room for your garage, click this:  Safe Rooms
* * * WARNING * * *
NOT

 ALL STORM SHELTERS ARE CREATED EQUAL!

Our Huntsville tornado shelters &  Lifesaver Storm Shelters are made of fiberglass, stainless steel hardware, and a plastic honeycomb composite floor system that won't rot, leak or conduct electricity, ensuring your safety and peace of mind in case of another dangerous Huntsville tornado – you won't have to think twice about using it!    (see more photos & videos on the right hand side  —–>)

(To see more from our happy and satisfied Lifesaver customers,
watch this WAFF Channel 48 Video by clicking here)

Other storm shelter manufacturers use wood, concrete or metal all of which will crack, leak, rot and rust allowing water, insects, rodents and snakes to enter the shelter as well as providing an environment for mold or mildew to thrive.  Metal shelters can also be dangerous as they can conduct electricity from downed power lines or lightning – especially in the rain.
You will find many competitors claiming they have the best storm shelter available…
The question is, can they PROVE their fiberglass, steel, or PLASTIC shelter will withstand a Category F-4 or F-5 Tornado? Probably Not!
We can, and have the pictures to prove it – Lifesaver Storm Shelters SAVES LIVES!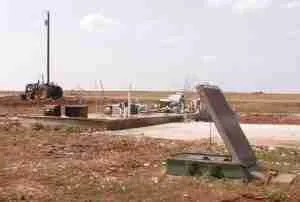 8 lives were spared on one of the most tragic days in Alabama history recently thanks to an underground LIFESAVER tornado shelter.  Click on the following link to see the photos: Lifesaver Storm Shelter (in Tanner, AL after April 2011 Huntsville tornadoes)

Lifesaver Storm Shelters

– Engineered, Tested, Certified & Approved

Unlike many other tornado shelters out there, the Lifesaver underground storm shelter exceeds FEMA 320 guidelines, having successfully passed the Texas Tech Wind Science and Engineering Center tests.  These guidelines ensure, among other things, that the shelter can withstand upwards of 250 mph winds, impacts from objects and debris at high-speed, adequate ventilation, a securely locking door that can also be opened by emergency crews if necessary, etc.

You can find all the FEMA, NSSA and other requirements that the Lifesaver storm shelters exceeded, as well as the engineering specs and test results conducted by the Texas Tech University's Wind Science and Engineering Research Center (THE premier tornado science institute), on this page: FEMA Storm Shelter Requirements
Storm Shelter

 Models, Sizes & Common Applications
We have tornado storm shelters and safe rooms to accommodate every size, need and budget, from our 4-person storm shelter starting as low as $3500 installed, on up to our 20-person shelter (great for businesses too like day care centers, factories, office buildings, small businesses, mobile homes & parks, retirement homes, RV parks and campsites, churches, US Gov't & Military Facilities, Local & City Gov't Facilities, and more).

To see the different Lifesaver underground storm shelters and varying sizes available, visit the following page for more information, pictures and videos: Lifesaver Storm Shelter Models
FINANCING AVAILABLE:  90 days same as cash or 12-months no interest for Approved Customers
(*Contact Us for the latest program offerings and details)
We can install in your yard or garden, in a garage/driveway slab (to be poured) or crawl space (new construction)*.  Our certified, licensed, bonded and insured installers can put the shelter just about anywhere there's space for it so you and your family can have proper shelter from the storm (call if you have specific questions or would like a free site visit & analysis).
*Note: we do not do very many underground garage-slab installations due to recent carbon monoxide poison issues brought up (CO in your garage can pool, ending up in your storm shelter, a potentially very dangerous situation).
We install our underground shelters and safe rooms in the greater Huntsville / Northern Alabama areas, including southern Tennessee and other outlying areas.  Installs can be as fast as 3-4 hours (depending on install location) – Lifesaver Storm Shelters of North Alabama guarantees the install for life!  Call for further details or questions on installs.
Should YOU buy a Lifesaver Storm Shelter?
NO COMPANY CAN MATCH OUR PRICE OR QUALITY ON STORM SHELTERS
For More Information, exact Pricing and to get your questions answered, call Hans or Danny now:
Lifesaver Storm Shelters of North Alabama:
256-258-WIND (9463)
| Tornado shelter next to garage & driveway | Tornado shelter installed in garage floor |
| --- | --- |
For more pics of installs, go to this page and click on the shelter size(s) you're interested in for more pics and info
---
cing:0;}
#af-form-1182310988 ul,#af-form-1182310988 ol{list-style-image:none;list-style-position:outside;list-style-type:disc;padding-left:40px;}
#af-form-1182310988,#af-form-1182310988 .quirksMode{width:325px;}
#af-form-1182310988.af-quirksMode{overflow-x:hidden;}
#af-form-1182310988{background-color:transparent;border-color:transparent;border-width:1px;border-style:solid;}
#af-form-1182310988{display:block;}
#af-form-1182310988{overflow:hidden;}
.af-body .af-textWrap textarea{width:100%;}
.af-body .af-textWrap{text-align:left;}
.af-body input.image{border:none!important;}
.af-body input.submit,.af-body input.image,.af-form .af-element input.button{float:none!important;}
.af-body input.text{width:100%;float:none;padding:2px!important;}
.af-body textarea{padding:2px!important;}
.af-body.af-standards input.submit{padding:4px 12px;}
.af-clear{clear:both;}
.af-element label{text-align:left;display:block;float:left;}
.af-element{padding:5px 0;}
.af-form-wrapper{text-indent:0;}
.af-form{text-align:left;margin:auto;}
.af-header{margin-bottom:0;margin-top:0;padding:10px;}
.af-quirksMode .af-element{padding-left:0!important;padding-right:0!important;}
.lbl-right .af-element label{text-align:right;}
body {
}