National Emergency Training Center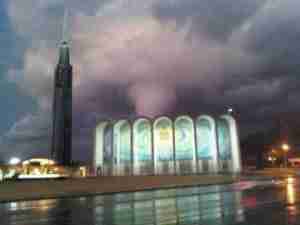 The best way to prepare for another Tennessee Valley or Huntsville tornado is to leave the Valley and get the proper training.  That is the mission of the Emergency Management Institute at the National Emergency Training Center in Emmitsburg, MD.  Here, teams of instructors all have real life experience in dealing with natural and man-made disasters.  Being the only broadcast meteorologist to ever instruct for the Emergency Management Institute, I have a very unique take on emergency information and public information, and how the two work together.
It is my 15 years of FEMA instruction and my 27 years as a broadcast meteorologist that brought me to actively market WeatherCall's family of products, from WeatherCall for your Home to WeatherCall Mobile with Lightning Detection to WeatherCall Enterprise, the uniquely affordable weather risk solution for businesses of all sizes.  And knowing that EF-5 tornadoes, which frequently visit Huntsville and surrounding areas, have an above ground survival rate of as little as 20%, the best way to insure your family's LIFE during a Huntsville tornado is to have the best notification in the nation and the best storm shelter in the country, Lifesaver Storm Shelters of North Alabama.
This week at the EMI in Emmitsburg, MD, we are teaching emergency managers, police, fire, EMS and community services from local communities from across the country (and even from the military, NOAA, and the CIA) how to better work together before, during and after a disaster.  The poor fictitious residents of Central City, in Liberty County, in the fictitious 51st state of the United States called Columbia, will once again get SLAMMED by a series of explosions, car accidents, chemical plant eruptions, massive outdoor public events, a high rise fire that will take several more lives and injure scores.  By doing this, we are giving these students, some very well experienced public and civil servants, experience with stress, problem solving, and bringing solutions.
What do I take away from this training?
More learning, more friends, and more people with whom I will be in contact for life in our joint efforts to make Americans safer before, during, and after disasters.  One thing about facing a Tennessee Valley or Huntsville tornado threat.  We KNOW they will come again… and again.  YOU need to prepare for their inevitability by getting WeatherCall and a Lifesaver Storm Shelter.
Act TODAY.  If you are interested in FEMA training and serving your community, go to the FEMA Training Website, and learn more.  Perhaps one day you'll be in one of the classes I teach.  Or even Vice Versa!
Brad Huffines – Meteorologist
National Notification Consultant, WeatherCall
Adjunct Instructor of Media and Meteorology, DHS/FEMA EMI
Husband, Father, Friend